My first blog post *yikes*! To begin this post I believe that it is only right that I introduce myself. My name is Amy Kelly and I am 20 years old. For 19 years I lived in Wrexham before beginning my adult life by moving to Ormskirk to follow a degree in a subject to which I am the most passionate about. From a young age I have always been interested in seeing how the world of computers will advance in the future. The thrill and excitement about the endless techniques and skills involved in computing has kept me passionate about this subject since I received my first computer at the age of three.
After looking at the various pathways I could take to further my knowledge of computing I found that a degree in my chosen subject would be better suited for me. The idea of moving away from home to not only gain a degree but to also gain life skills from living independently appealed to me the most. After going to various open days it wasn't until I visited Edge Hill that I knew this was the university for me and when it came to results day finding out I had been secured a place my excitement only grew.
I could go into all the details about how my first year went but I don't want to bore, all I will say is how amazing it was. Meeting a variety of new people from different backgrounds and discovering myself as a person I couldn't be happier with my choice of moving away. My interest in computing has greatly increased and my determination in the subject led me to finish my first year with a First. As I am going through my second year and am more excited than ever to be studying a degree that I love alongside friends that I have made for life.
What better way than to document my life as a computing student than to set up my own website. Would you believe it that I have had my own website since I was seven years old (11 years!!), this exact web address to be precise; so I think it's quite obvious that from a young age my interest with this subject has always been profoundly huge! I am highly motivated by the exciting future of the computing industry and I intend on following a career in this exciting and innovative field.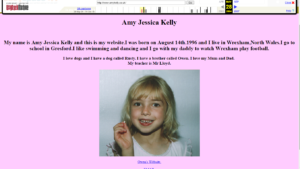 So here was just a little insight into my life as a computer addict! If you would like to get in touch please feel free to email me at amy@amykelly.co.uk.
Amy.